Updates & Resources to Help the Adams Morgan Community Navigate Coronavirus (Covid-19)
Together, we are #AdamsMorganStrong. During this unprecedented time, the Adams Morgan Partnership Business Improvement District is taking a series of precautionary actions to prevent the spread of COVID-19 while doing our best to support all of our businesses and commercial property owners to help them survive now and reopen stronger. We will continue to provide updates as they become available. Please visit this page often as we will soon begin to post resources on how to reopen your businesses safely.
Team sPACYcLOUd and I would like to thank Adams Morgan Partnership Business Improvement District for helping small businesses through the hard times. They have been working non stop cleaning streets, answering questions, connecting us with local leaders, providing information for resources available for small businesses, helping with marketing, and just being there for us. We are very honored to be part of Adams Morgan tight community. Thank you for keeping it together. We can do it… together!
I just wanted to tell you that I think you are doing a fantastic job keeping the business community updated with all the changes and updates.  I find your newsletter one of the BEST and most comprehensive resources thus far (and you have real time updates).

Just wanted to say that we all very much appreciate your work.  And it really does help us filter through all our unanswered questions.
All of us at Joy's Spa want to take a moment to say thank you to you, and the staff of the Adams Morgan BID. 

We have a long road ahead but being able to find resources and outlets to give our clients and community ways to stay in touch and help. 
I can't thank you enough for helping and fighting for the Adams Morgan businesses. We all really appreciate it during these crazy times. 

Thank you!
Just wanted to let you know that Mr. Jadrijevic at OTR responded last night, and he was really helpful! I didn't realize he is a director, so that was like hitting the lottery. 🙂 He included Donald Sullivan at DCRA and Rodger Hoye (OCFO), so I think things will get done as soon as they can with all the closures and restrictions these days. I want to thank you for giving me his name and contact information — what a huge help! 🙂
Appreciate you guys working hard for the neighborhood!
Thank you and your team for all that you are doing for our community and small businesses – You all make Adams Morgan the amazing place that it is.
I can't thank you enough. I submitted our applications and Lori assigned someone right away who was able to complete our applications and submit to SBA. Both applications have been accepted and are being processed. This is amazing. I can't believe how responsive they are and so easy to work with.

THANK YOU AGAIN! You're the best 🙂
I think you're doing a great job with your emails to your constituents. They provide great information.
Hi guys, this remains a really informative newsletter. I know you're working hard to put all this together, it's definitely appreciated.
Thanks so much for all that you guys are doing. Your newsletter has been SO INCREDIBLY helpful!
Take A Peek At What's Open In Adams Morgan
The Adams Morgan Partnership is maintaining an up-to-date list of restaurant and retailer operating statuses as well as gift card availability. Click Here To View. 
Due to the rapidly evolving situation, we recommend double checking with the restaurant and/or retailer to ensure that they are open. If you have updates to this list, please email bbarrie@admodc.org. 
Virtual Programming & Health & Wellness Opportunities
Focusing on health and wellness is more important now than ever before. Thanks to our Adams Morgan fitness studios, you can now workout, meditate, and be healthy from the comfort of home.
Here's What The Adams Morgan Partnership Is Doing During Covid-19
The Adams Morgan Partnership Business Improvement District is a nonprofit organization focused on supporting and enhancing the quality of life for businesses, commercial property owners, residents, visitors, and employees in the Adams Morgan neighborhood.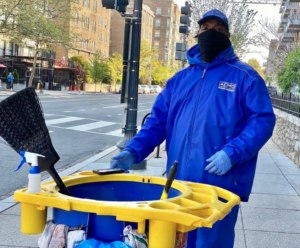 During COVID-19, while maintaining our commitment to keep the neighborhood clean and safe, our marketing efforts have shifted from hosting fun neighborhood events and developing creative promotions  to providing resources to help businesses find economic relief, generating campaigns to drive traffic to businesses that remain open, and providing assistance to businesses who need help connecting to resources. 
The Partnership also worked with DDOT to create six temporary PUDO zones for our restaurants and retailers to use as pickup and dropoff zones to assist with pickup and delivery efforts. The PUDO zones are located at:
2000 Block of 18th Street near Jack Rose Dining Saloon

2300 Block of 18th Street near Spacycloud Lounge

2400 Block of 18th Street near Jyoti

2400 Block of 18th Street near Mellow Mushroom

1600 Block of Columbia Road near Federalist Pig

1800 Block of Columbia Road near Pop's SeaBar
We have also increased the frequency of our newsletter from every two weeks to almost daily and are using it to aggregate resources from dozens of sources including local and federal government, commercial enterprises, nonprofits, and others to make sure our members have access to the resources they need and know about any and all programs that may benefit them. The Adams Morgan Partnership is in the process of collecting and distributing resources to help businesses reopen as safely and effectively as possible.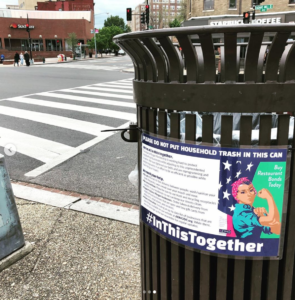 Our Clean Team Ambassadors have also been working hard during these unprecedented times. With enhanced cleaning and sanitation protocols in place and practicing social distancing, the team has continued to keep the neighborhood clean despite the challenges. Trash collection and cleanliness remain essential and takes on a new importance amid efforts to minimize the spread of COVID-19. We have reduced Clean Team staffing and adjusted their schedule in order to reduce our budget and to decrease risk of exposure between Clean Team members and in our community. Their new schedule is Thursday through Monday, 6 AM – 12 Noon. If you see bulk trash or other items that need to be taken care of, please contact Brian Barrie (202-536-9515) for assistance.
In addition to reducing our Clean Team's hours, the Adams Morgan Partnership's Executive Committee has been working with our Executive Director to identify additional actions we can take to reduce expenses and temporarily scale back programs while we plan for a more austere future. It is important to us to reprogram our resources in order to assist businesses with all of their recovery needs. The Reimbursable Detail Officer (RDO) program was paused after Saturday March 14th and our Safety Ambassador was furloughed without pay beginning Monday March 30th.
Our Spring 2020 events are postponed until until it is safe to gather again. We will provide updates as soon as they become available. Please be sure to follow our social media accounts, as we post on a regular basis and will discuss timing for our events.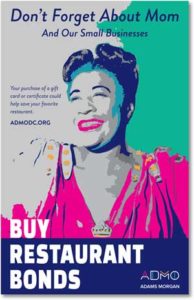 "Buy Restaurant Bonds!" Campaign & How To Help Small Businesses
On March 16, 2020, the Adams Morgan Partnership launched our "Buy Restaurant Bonds" campaign. With restaurants facing an uncertain immediate future, we are encouraging DC diners to support their favorite Adams Morgan restaurants by purchasing gift cards – or what we are calling "Restaurant Bonds" – similar to "war bonds" during WWI and II. Whether given as a gift or kept for future meals, gift cards can act as a microloan to restaurants to provide much- needed immediate cash. Many restaurants sell gift cards online, allowing customers to offer their support without having to leave home.
In an effort to give back to our community, the Adams Morgan Partnership purchased $545 in digital gift cards from 43 Adams Morgan restaurants, which were then donated to DC Fire Department Engine Company 21. As our local firefighters do everything they can to help keep our community safe, The Adams Morgan Partnership wanted to do our part to take care of them as well. These gift cards are a small gesture of our gratitude for their tireless work during this continued crisis.
By purchasing these gift cards from restaurants in Adams Morgan, the Adams Morgan Partnership was also able to support each with much-needed revenue. As a result, this action accomplishes two goals in supporting our neighborhood's frontline workers and our small businesses. We encourage others who are able to do so to follow our lead and "Buy Restaurant Bonds" (aka gift cards). 
Adams Morgan Partnership Assistance
Many of you have already reached out, but if you have not, or if you have any additional questions regarding grant/loan applications, how to go about navigating COVID-19, or need help promoting your business, please contact us. We are here to help throughout this pandemic and beyond. 

The Adams Morgan Partnership is actively promoting neighborhood businesses and the special deals, fitness videos, online orders, or gift cards they are selling, through the BID's social media, local news contacts, and website. Be sure to tag us in your posts so that we can help spread the word.

Restaurants in Adams Morgan that wish to request converting street parking to temporary curbside pick-up/delivery zones should please contact

bbarrie@admodc.org

.

AMPBID Digital Assistance During COVID-19: Adams Morgan Partnership BID is offering Website, Digital Marketing, and Social Media Advice for Small Businesses During COVID-19. We are available to offer digital assistance to our Adams Morgan small businesses during COVID-19. Whether you're a retailer that's temporarily closed your doors, a restaurant promoting takeout and delivery offerings, or an online business that's experiencing a spike you weren't anticipating, we're here to help you identify potential marketing opportunities and assist in "figuring out where to begin." We may not have all the answers, but we're committed to providing you with relevant and timely resources that you'll need as you navigate through the uncertainty ahead. If you are in need of digital marketing tips, social media setup/strategy, or website advice, we're here to help and please don't hesitate to reach out to Brian Barrie – bbarrie@admodc.org to set up a time to speak with us so that we can brainstorm together.

If you haven't already, sign up for the Adams Morgan Partnership's newsletter. On a regular basis, the BID is distributing helpful information to stakeholders regarding COVID-19 including relevant resources, financial relief opportunities, and more.
Community Resources
To Help Navigate Covid-19

Resources For The General Public: 
A Safe (and Resourceful) Future
There are many committees working on the Reopen DC draft reports. It is not yet complete nor inclusive of real time health guidelines, however we are encouraged by the creative and forward thinking on ways to utilize outdoor public and private space.  It is likely that as we move into a phased approach, that businesses will need to consider how to use as much of your outdoor space as possible. We are also exploring additional public space initiatives to facilitate social distancing on our streets, curbside pick-up, and more. We'll include those updates here in the newsletter and on the website. We want you to be ready to welcome back customers.   
In need of protective equipment to keep you and your employees safe? Check out the following Adams Morgan businesses to purchase masks, gloves, hand sanitizer, and more.
ACE Hardware: Find items like masks, plastic gloves, and other sanitation supplies.
Frugal Bird: Support this local Adams Morgan resident that is selling hand sanitizer products! All funds support buying masks for those on the front lines. 
CVS: Purchase over the counter medications, paper products, and cleaning supplies.
* Please check store availability via their website or calling ahead prior to pickup.
** Does your business sell masks, cleaning supplies, or other household pantry items? Email us at bbarrie@admodc.org and we can add to the list!