Updates & Resources to Help the Adams Morgan Community Navigate Coronavirus (Covid-19)
Together, we are #AdamsMorganStrong. During this unprecedented time, the Adams Morgan Partnership Business Improvement District is doing everything we can to both enhance the safety of the neighborhood and ensure our businesses are able to survive. For the latest updates about safety protocols, grant opportunities for businesses, and updates from the DC Government, please subscribe to our newsletter. You'll find the signup form on this page.
Team sPACYcLOUd and I would like to thank Adams Morgan Partnership Business Improvement District for helping small businesses through the hard times. They have been working non stop cleaning streets, answering questions, connecting us with local leaders, providing information for resources available for small businesses, helping with marketing, and just being there for us. We are very honored to be part of Adams Morgan tight community. Thank you for keeping it together. We can do it… together!
I just wanted to tell you that I think you are doing a fantastic job keeping the business community updated with all the changes and updates.  I find your newsletter one of the BEST and most comprehensive resources thus far (and you have real time updates).

Just wanted to say that we all very much appreciate your work.  And it really does help us filter through all our unanswered questions.
All of us at Joy's Spa want to take a moment to say thank you to you, and the staff of the Adams Morgan BID. 

We have a long road ahead but being able to find resources and outlets to give our clients and community ways to stay in touch and help. 
I can't thank you enough for helping and fighting for the Adams Morgan businesses. We all really appreciate it during these crazy times. 

Thank you!
Just wanted to let you know that Mr. Jadrijevic at OTR responded last night, and he was really helpful! I didn't realize he is a director, so that was like hitting the lottery. 🙂 He included Donald Sullivan at DCRA and Rodger Hoye (OCFO), so I think things will get done as soon as they can with all the closures and restrictions these days. I want to thank you for giving me his name and contact information — what a huge help! 🙂
Appreciate you guys working hard for the neighborhood!
Thank you and your team for all that you are doing for our community and small businesses – You all make Adams Morgan the amazing place that it is.
I can't thank you enough. I submitted our applications and Lori assigned someone right away who was able to complete our applications and submit to SBA. Both applications have been accepted and are being processed. This is amazing. I can't believe how responsive they are and so easy to work with.

THANK YOU AGAIN! You're the best 🙂
I think you're doing a great job with your emails to your constituents. They provide great information.
Hi guys, this remains a really informative newsletter. I know you're working hard to put all this together, it's definitely appreciated.
Thanks so much for all that you guys are doing. Your newsletter has been SO INCREDIBLY helpful!
Al Fresco Dining In Adams Morgan
With over 50 options to choose from, Adams Morgan has the highest concentration of outdoor dining options in Washington, DC. The 18th Street Streatery has over 30 restaurants that have expanded their outdoor dining options into a protected lane of the roadway, and dozens of other restaurants around Adams Morgan feature parklets, roof decks, and sidewalk patios.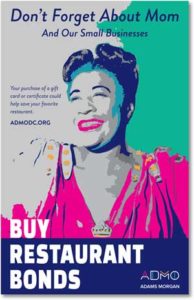 "Buy Restaurant Bonds!" Campaign & How To Help Small Businesses
On March 16, 2020, the Adams Morgan Partnership launched our "Buy Restaurant Bonds" campaign. With restaurants facing an uncertain immediate future, we are encouraging DC diners to support their favorite Adams Morgan restaurants by purchasing gift cards – or what we are calling "Restaurant Bonds" – similar to "war bonds" during WWI and II. Whether given as a gift or kept for future meals, gift cards can act as a microloan to restaurants to provide much- needed immediate cash. Many restaurants sell gift cards online, allowing customers to offer their support without having to leave home.
In an effort to give back to our community, the Adams Morgan Partnership purchased $545 in digital gift cards from 43 Adams Morgan restaurants, which were then donated to DC Fire Department Engine Company 21. As our local firefighters do everything they can to help keep our community safe, The Adams Morgan Partnership wanted to do our part to take care of them as well. These gift cards are a small gesture of our gratitude for their tireless work during this continued crisis.
By purchasing these gift cards from restaurants in Adams Morgan, the Adams Morgan Partnership was also able to support each with much-needed revenue. As a result, this action accomplishes two goals in supporting our neighborhood's frontline workers and our small businesses. We encourage others who are able to do so to follow our lead and "Buy Restaurant Bonds" (aka gift cards). 
Adams Morgan Partnership Assistance
Many of you have already reached out, but if you have not, or if you have any additional questions regarding grant/loan applications, how to go about navigating COVID-19, or need help promoting your business, please contact us. We are here to help throughout this pandemic and beyond. 

The Adams Morgan Partnership is actively promoting neighborhood businesses and the special deals, fitness videos, online orders, or gift cards they are selling, through the BID's social media, local news contacts, and website. Be sure to tag us in your posts so that we can help spread the word.

AMPBID Digital Assistance During COVID-19: Adams Morgan Partnership BID is offering Website, Digital Marketing, and Social Media Advice for Small Businesses During COVID-19. We are available to offer digital assistance to our Adams Morgan small businesses during COVID-19. Whether you're a retailer that's temporarily closed your doors, a restaurant promoting takeout and delivery offerings, or an online business that's experiencing a spike you weren't anticipating, we're here to help you identify potential marketing opportunities and assist in "figuring out where to begin." We may not have all the answers, but we're committed to providing you with relevant and timely resources that you'll need as you navigate through the uncertainty ahead. If you are in need of digital marketing tips, social media setup/strategy, or website advice, we're here to help and please don't hesitate to reach out to Brian Barrie  to set up a time to speak with us so that we can brainstorm together.

If you haven't already, sign up for the Adams Morgan Partnership's newsletter. On a regular basis, the BID is distributing helpful information to stakeholders regarding COVID-19 including relevant resources, financial relief opportunities, and more.
Community Resources
To Help Navigate Covid-19

Resources For The General Public: