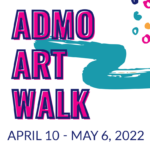 AdMo Art Walk 2022: Artist Spotlight
Click Here
for information on the other artists and businesses as well as an interactive map of the show.
Artist:
Brenda Chandler

Pieces:
Woman of Color, Equality, Orange Flowers,
Art Walk Location:
Urban Dwell, 1837 Columbia Rd NW
Description of Pieces:
Woman of Color – is a abstract profile of a woman of various tones of primary colors
Equality- Shows that we really do need each other to survive.
Orange Flowers is a photograph that was taken to at The National Botanical Gardens
Pricing: Woman Of Color 400.00, Equality 350.00, Orange Flowers 250.00
Artist Biography: Brenda Chandler was born in Bronx, N.Y. Went to St. Augustine Catholic School where the nuns took us to great field trips such as Lincoln Center and The New York Metropolitan Museum of Art. Studied Commercial Photography in high school. Became fascinated with The Smithsonian Museums and became a intern at the Smithsonian Anacostia Community Museum in my mid 50's while attending The University of the District of Columbia where I graduated with a Bachelor's Degree in Fine Art with the concentration in Graphic Design.