Adams Morgan Movie Nights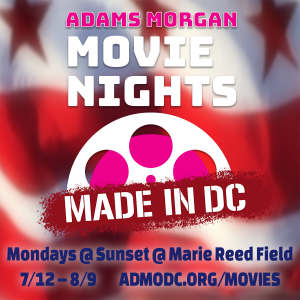 Recently listed in 100 Things to Do in Washington, DC Before You Die, this is our flagship event of the year.
Our outdoor film series continues the rich cultural history of the community – the classic theaters of Adams Morgan were once the place to go to see first-run Hollywood films. Movie Nights brings residents and visitors together, activating the Adams Morgan neighborhood.
This year's series focuses on movies that were filmed in DC, including two that were partially shot in Adams Morgan (Punk the Capital and In The Line of Fire). We'll have a family-friendly feature (Night at the Museum: Battle of the Smithsonian) and will also be screening All the President's Men on the 47th anniversary of President Nixon's resignation. We'll also be showing the blockbuster Wonder Woman 1984, most of which was filmed in and around the District of Columbia.
Our movie series attracts thousands of people for one of Washington's favorite summer traditions: films under the stars.
Click here to visit our Facebook page for the latest info on special events and weather-related rescheduling.
Click here for an interactive map of filming locations in DC for all five movies
This year's movies:
Brown Bag Movie Meals
Free fountain soda (any size) with purchase of fries, sandwich, or bowl
4 tacos or pupusas & a 32oz drink (horchata, tamarindo, marañon)   $20.00
*vegan cheese option available for additional $2
Taco combo (3 tacos) for $10.
Drinks of Horchata, Jamica and Tamarindo for $3 (on Movie Nights)
Please note that octopus will not be include in the promotion.
---
---
Berlin style Vegan Veggiewurst With Sauerkraut and in-house sauce served on Pretzel bun $12
Trotsky Fries (yuca fries) $8
Peasant Patatoes with in-house made sauce $8
Pelmeni – Vegan Russian dumplings with dill and in-house made sauce – $16
Vareninki- Vegetarian Ukrainian dumplings (ask for filling of the day) with dill and in-house made sauce- – $16
---
Choice of 2 Wraps (comes with same side choices as regular menu):
Nina Wrap
Turkey Club Wrap
Smashed Chickpea Wrap
Hummus Plate
2 Water Bottles
All for $34
Add on Dessert (2 Chocolate Chip Cookies or 1 Slice of Coconut Cream Pie)! 
---