Adams Morgan Movie Nights will return in the Spring of 2023 with another great lineup!
Adams Morgan Movie Nights 2022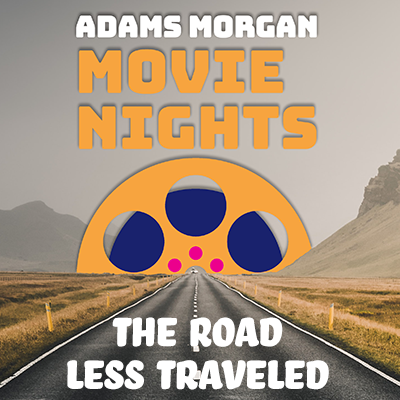 Voted as one of the best outdoor movie series in DC by readers of the Washington City Paper, Adams Morgan Movie Nights is a can't-miss event!
This year's series focuses on "The Road Less Traveled," showcasing movies that find our heroes on a quest of one sort or another. This year's lineup:
May 24: The Princess Bride
May 31: Monty Python and the Holy Grail
June 7: Queen of the Capital rained out
June 14: Keanu
June 21: Encanto
June 28: Queen of the Capital

[RESCHEDULED from 6/7]
Adams Morgan Movie Nights will kick off on Tuesday, May 24 and continue with weekly screenings on Tuesday nights through June 21. Movies are free and are shown on the soccer field at Marie Reed School.
Important notes:
Pets and alcohol are not allowed on the field per DPR/DCPS rules. Service animals are allowed.
All movies are presented with subtitles/closed captioning if available
Please note that the film will start 20 to 30 minutes after sunset — usually around 9pm — but guests are encouraged to arrive earlier to find a good spot to sit.
Our outdoor film series continues the rich cultural history of the community – the classic theaters of Adams Morgan were once the place to go to see first-run Hollywood films. Movie Nights brings residents and visitors together, activating the Adams Morgan neighborhood. Adams Morgan Movie Nights attracts thousands of people for one of Washington's favorite summer traditions: films under the stars.
This season is going to be great! You won't want to miss it.
Click here to visit our Facebook page for the latest info on special events and weather-related rescheduling.
This year's movies:
Watch this space for the 2022 Brown Bag Movie Meals!
Brown Bag Movie Meals
Special deals just for movie-goers! Call to have your food ready to go!
Falafel bowl, regular size with unlimited topping choices. $10.99
Matinee
Seasoned House Potato Chips $4
Hummus & Pita $8
Beer Cheese $6
Charcuterie $10
Crudite $9
Main Feature
Chicken Salad Wrap W/chips $12
All Beef Hot Dog W/chips $8
Cobb Salad $15
Caesar Salad $10
Refreshments
San Pellegrino Sparkling Fruit Beverage $3.50
Bottled Water $2
$3 tacos.
$7 Quesadillas add-ons are $4 for beef, chicken, guacamole, pork.
$9 Nacho Libre add-ons $4 for chicken, beef, pork or guacamole.
$5 Flautas pollo.
Taco Tuesday special – Any 3 tacos for $9 (Excluding seafood)

Refreshers $3 — Horchata, Tamarindo, Jamaica

Shibuya: (Comes with 1 one complimentary soda can)
Shiburger – Smash Burger Topped with Pork Belly, Smoked Cheddar, Beet Cabbage Slaw. Served with Wasabi Fries. $16

Tori Sando (Fried Chicken Sandwich) with Cucumber Pickle, Beet Cabbage Slaw, Bang Bang Mayo. Served with Wasabi Fries. $16

Karaage (Japanese Fried Chicken). Served with Yuzu Kosho Sauce. Always Gluten Free. $14

Baby Back Ribs (Half Rack) $18

3 Roll Sushi Box: Spicy Tuna, Salmon Avocado, Fresh Jumbo Lump Crab California Roll $35
Berlin style Vegan Veggiewurst With Sauerkraut and in-house  sauce served on Pretzel bun – $12
Trotsky Fries (yuca fries) – $8
Peasant Potatoes with in-house made sauce – $8
Pelmeni – Vegan Russian dumplings with dill and in-house made sauce – $16
Vareninki- Vegetarian Ukrainian dumplings (ask for filling of the day) with dill and in-house made sauce- – $16
CBD sparkling water – $8
Ask for the "$7.99 Movie Special" which includes:
6" sub (turkey, ham, bmt, tuna, cold cut, ham/turkey), a bag of chips, a cookie
(Drink is additional) (Extra cheese, extra bacon, extra guac will be an additional charge)
(Cannot be combined with other coupons)
Tiki on 18th/The Game: (Complimentary soda with purchase)
Crunch Time – crispy chicken skins with sexy thang sauce – $6

Cheese Stix – mozzarella and cheddar cheese spring rolls with Jufran aioli – $5

Lumpiang Gulay – vegetable spring rolls with spicy vinegar – $5

Mumbo Tofu – fried tofu, spicy mumbo sauce, arugula, scallions – $6
 – Coke, Diet Coke, Sprite, Ginger Ale.

Diner Classic Burger with Fries + Fountain Soda" for $15
For a complete list of Adams Morgan dining options, be sure to check out our interactive map!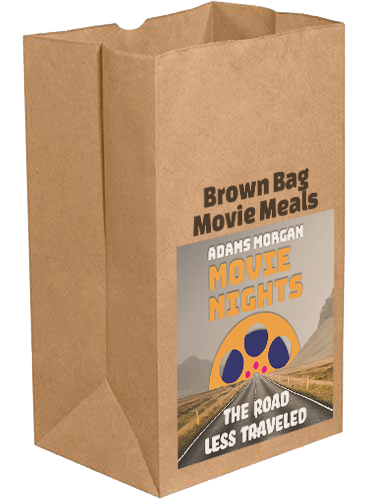 ---
---