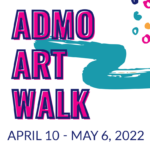 AdMo Art Walk 2022: Artist Spotlight
Click Here
for information on the other artists and businesses as well as an interactive map of the show.
Artist:
Pat Goslee

Pieces:
Flowers for Peace
Art Walk Location:
D Light Cafe, 2475 18th St NW
Description of Pieces: Recent paintings of floral images that operate as creative alternatives to the destructive currents of public discourse. These paintings are visual barometers, registering what might be called evolutionary entropy that reference the blooming of hope.
Pricing: I would have a wide range of prices from small & very affordable ($200) up to $5000
Artist Biography:
Pat Goslee is an intuitive painter of emotional and energetic states.
"Emotion as epistemology" is how one critic has described her work.
Her painting was recently exhibited in Lusaka as part of the US Department of State's Art in Embassies diplomatic programming. Her work can be found in the permanent collections of the US Embassy in Nepal, the US Embassy in Ethiopia, the National Institutes of Health, the Children's National Medical Center, Union of Concerned Scientists and the University of Georgia. Her video work is featured in the textbook Art 101: Understanding Visual Images in Our World, and her paintings are included in the publications 100 Artists of Washington, DC and 100 Artists of the Mid-Atlantic.
Pat has been awarded numerous Visual Artist Fellowship grants from DC Commission on the Arts and Humanities. Her critically acclaimed curatorial projects have introduced emerging talents to a wider audience. Her design skills have been utilized in ARTWATCH, a collective of artists who develop ways to use visual communication to express support for true democratic values. She has been a member of the Board of Directors for the Washington Arts Museum (WAM), the DC Arts Center (DCAC), and the Advisory Committee, International Arts & Artists at Hillyer.
"