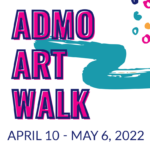 AdMo Art Walk 2022: Artist Spotlight
Click Here
for information on the other artists and businesses as well as an interactive map of the show.
Artist:
Taeesha M
Pieces:
Amiyra (Princess) 30×40
Safety (Purity) 30×40
Bessy's Blues, Ebony, Ruby (all three, 12×12)
Art Walk Location:
Big Sky, 2436 18th St NW
Description of Pieces: "As an artist, I am very connected to how we as women express ourselves in the world. I love to hear women speak! Our voices, our cadence, our tones. There is a grace and elegance that we have about us, and I desire to bring that out in the pieces of this series. And we cannot be silenced or made to feel invisible.
There is a language and a culture we as Indigenous Beings can explore. In my work, I want to bring out the beauty I see in the written language of our ancestral home and the beauty of the woman in her natural form."
Pricing: 30″ x 40″ 1500.00 , 12×12″ 1000.00
Artist Biography: Taeesha M. aka Sophisticatedcookie is a Brooklyn-bred, Harlem-based, International Artist who is always seeking opportunities to show how women are engaging in the world. Her work has been about women and the world around us up to this point—the relevance to her life. She explores the interplay between what she seems to be and who she is—perception versus reality. In her strength and vulnerability, the depictions of a woman allow us to see several sides of her grace. Through her works, she connects the classic and the contemporary woman and explores the unique dynamics of women between the lines. Using the traditional patterns of African nations in contemporary scenes, the importance of our history, our Sankofa is shown. She strives always to depict the joy found in ordinary days.