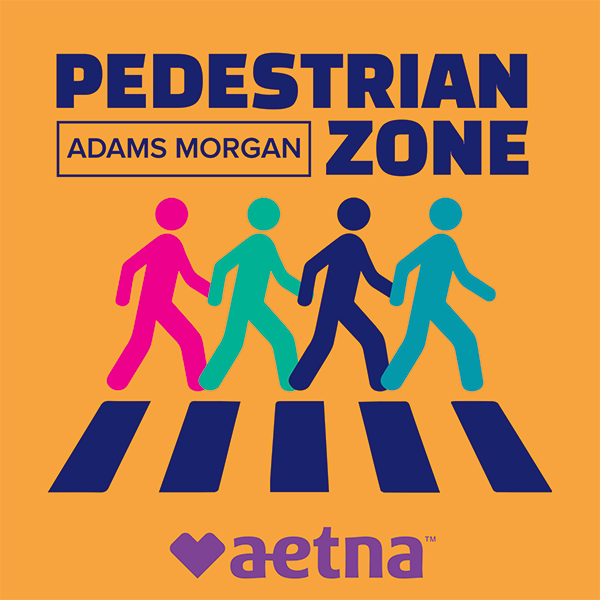 Adams Morgan Pedestrian Zone
September 4, 2022 @ 12:00 pm

-

8:00 pm
[Click here for the main Adams Morgan Pedestrian Zone page]
WASHINGTON, DC, August 9, 2022 — The Adams Morgan Partnership Business Improvement District (AMPBID) is excited to announce that the long-awaited return of the Adams Morgan Pedestrian Zone that will occur on multiple Sundays throughout the remainder of the year. The pedestrian zone will be located along 18th Street NW between Kalorama and Columbia Roads NW on the following dates:
Sunday, September 4 from 12pm-10pm
Sunday, October 23 from 12pm-10pm
Download our "What to Expect" flyer for more details
The objective of the pedestrian zone is to be a tool for the economic recovery of all the businesses in Adams Morgan. Closing the street to vehicular traffic allows for more pedestrians, bicyclists and people on scooters to have additional safe space to walk to their favorite cafe, shop for a unique gift, bike to dinner with friends, scooter to a hair or nail appointment, or wander the tree-lined streets of Adams Morgan and enjoy the architecture.
After the Mayor's June 2020 pilot street closure, the Adams Morgan Partnership BID received overwhelming support from businesses that the closure assisted with recovery efforts. For the last two years, the BID has worked tirelessly with DC government representatives and community partners to bring the Pedestrian Zone back to the neighborhood. Earlier this year, the Adams Morgan Partnership BID received $525,000 from the DC Office of Planning's "Streets for the People" grant program. The majority of the funding will support the purchase and installation of permanent infrastructure.
The August 21 pedestrian zone will look very similar to the June 2020 closure with added roving entertainment. People can expect to see barriers in place, bustling streateries, and people moving freely on both the sidewalk and in the street.
Initially, 18th Street will be closed using dump trucks and Metropolitan Police Department cruisers. The Adams Morgan Partnership BID is currently working with DC government partners to approve a more permanent street closure system that will be easily deployed using a cable barrier that is pulled across the street and connected on either side with a bollard.
Traffic control plans have been reviewed and approved by the District Department of Transportation (DDOT) and bus detours have been reviewed and approved by Washington Metropolitan Area Transit Authority (WMATA).
Pedestrian zone visitors can expect to see pop-up entertainment and fun programming throughout the day for people of all ages. All are welcome to attend this safe, family-friendly community initiative. Follow the Adams Morgan Partnership BID on Facebook, Instagram, and Twitter for more details about the 18th Street Pedestrian Zone, neighborhood updates, invitations to special events, and more!
This event was made possible by the Streets for People grant program under the DC Office of Planning.
For more information, please visit https://publicinput.com/dcstreetsforpeople