Adams Morgan Farmers Market
The Adams Morgan Farmers Market runs from May through December in SunTrust Plaza at the corner of 18th Street and Columbia Road.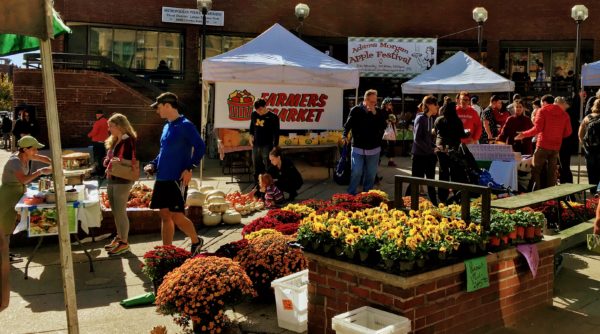 SATURDAY, SEPTEMBER 22,
8:00AM – 1:00PM, RAIN OR SHINE
18th Street and Columbia Rd
PLEASE HELP US REDUCE THE USE OF PLASTIC BAGS AND BRING YOUR OWN BAGS – LARGER and SMALL 
The weather looks good for Saturday!
So come to the market for:
MAGNESS PEARS – considered the most delicious pears in the region. These rare pear trees do not bear fruit every year. Raised with no chemical pesticides.  So come and try.

HONEYCRISP APPLES – at $2.29/lb, these are the most affordably priced of these delicious fruit.

We'll also have a variety of early fall APPLES including FUJI, SMOKEHOUSE and COX ORANGE PIPPIN (a rare British variety)

PEACHES and NECTARINES – yes, we'll still have a very few MANGO NECTARINES and ELBERTA PEACHES! end of the year

HEIRLOOM TOMATOES – 8-14 varieties – best time for sauce quality.
We'll also be featuring: (this is the last of the season for some items so come early!)
RED and GOLD BARTLETT PEARS

GOLD SHINSEIKE ASIAN PEARS – juicy and crisp

YELLOW CORN – very sweet!  3/$2.00. Come early!

SPINACH – Packed in 1 gallon bags – great for salads.

GREEN and YELLOW SQUASH – These are at their peak from our farm (pesticide-free). Large size – $1.49/lb.  Regular – 42.29/lb

CUCUMBERS – Crisp and fresh

HERBS – fresh, small bunch of THYME and OREGANO.  And bunches of MINT.

VINE-RIPENED TOMATOES – Rich beefsteak taste. Winding down

SAUCE TOMATOES in quantity and by the basket (25/lbs)

RADISHES – Beautiful fresh bunches.

GARLIC – large "German White" variety just picked.

Pesticide-free APPLES and PEACHES from our farm. 

BASIL – Large bunches – Now's the time to make Pesto.
We'll also have:
KALE

COLLARDS

POTATOES – fresh dug

ONIONS

…and other seasonal goodies
Don't forget to bring bags.

See you at the market on Saturday,
Licking Creek Bend Farm