Adams Morgan Farmers Market
The Adams Morgan Farmers Market runs from May through December in SunTrust Plaza at the corner of 18th Street and Columbia Road.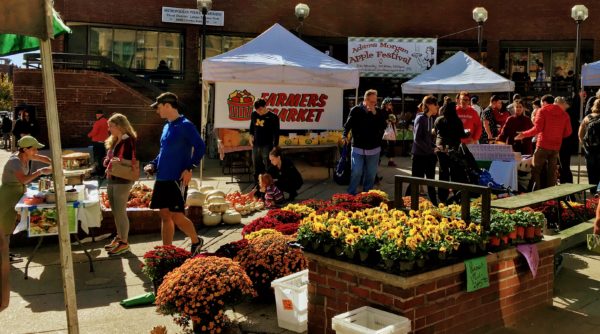 SATURDAY, OCTOBER 13,
8:00AM – 1:00PM, RAIN OR SHINE
18th Street and Columbia Rd
PLEASE HELP US REDUCE THE USE OF PLASTIC BAGS AND BRING YOUR OWN BAGS – LARGER and SMALL
TOMATOES – THIS IS IT! for canning and freezing sauce tomatoes!  The cold weather is putting an end to the sauce quality fruit.  So this Saturday is your last chance to stock up on sauce tomatoes.
APPLES – Try the NORTHERN SPY variety,  It's a nice substitute for those hooked on Honeycrisp.  Remember there are over 7,000 varieties of apples.  We'll also have several other varieties including STAYMAN WINESAPS, GALA, GRANNY SMITH, MUTSU.  We'll bring some of our own "pesticide-free" Stayman Winesaps apples.
APPLE CIDER! pressed from apples from our farm (1/2 gallon for $6.00) and STAYMAN WINESAPS, pesticide-free also from our farm.
We've gotten rave reviews on our own HONEY – our new harvest is in.
HEIRLOOM TOMATOES – 8-14 varieties – the sun has helped them grow (finally)  However, these are coming to an end as well.

We'll also be featuring: (this is the last of the season for some items so come early!)
CUCUMBERS – Crisp and fresh
HERBS – fresh, small bunch of THYME and OREGANO.  And bunches of MINT
VINE-RIPENED TOMATOES – Rich beefsteak taste. Winding down
SAUCE TOMATOES in quantity and by the basket (25/lbs) – we'll have a large amount this Saturday
GARLIC – large "German White" variety just picked.
We'll also have:
KALE
COLLARDS
RED and GREEN OKRA
KENNEBEC POTATOES – fresh dug, unwashed and delicious!
ONIONS
…and other seasonal goodies
Don't forget to bring BAGS,
See you at the market.
Michael, Esther, Charmaine, Julia and Caitlin
Licking Creek Bend Farm