Adams Morgan PorchFest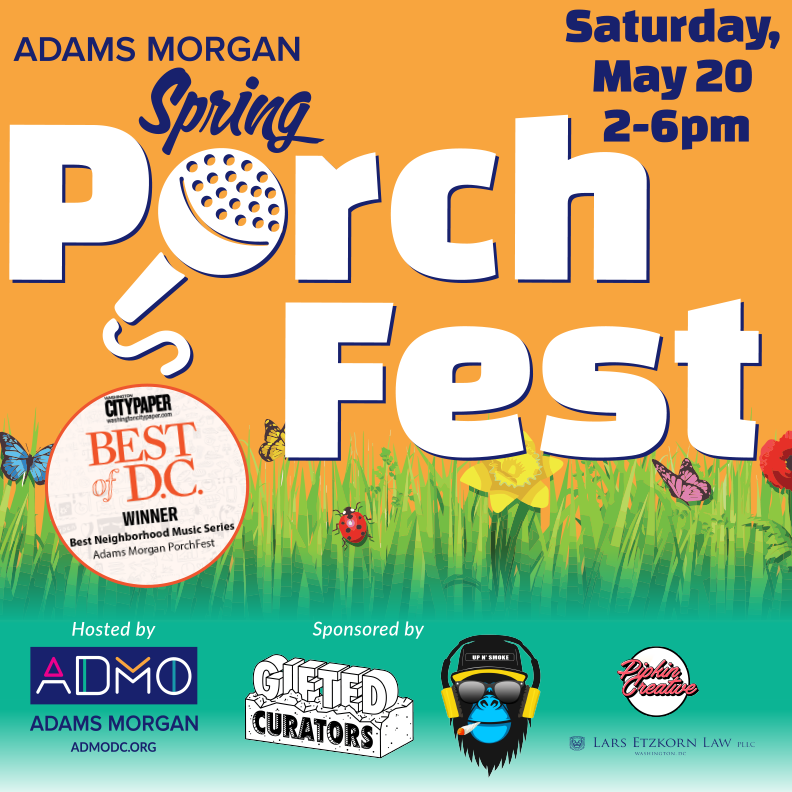 Adams Morgan Partnership BID Announces Spring PorchFest on Saturday, May 20 with 70+ Bands!
We are excited to announce our first-ever SPRING PorchFest on Saturday, May 20 from 2-6pm! Over the last 10 years, we have received overwhelming community support during our October PorchFest and have decided to add a second PorchFest to our events lineup (yes, we will be hosting another PorchFest in October 2023!). With over 70+ bands, this Spring edition will showcase some of DC's best musical talent featuring nearly every musical genre, including classic rock, funk, go-go, rap, reggae, blue grass, classical, and pop. Seventeen porches, patios, and stoops will become stages for the day, drawing music-lovers from around the region into the tree-lined streets and small businesses of Adams Morgan.
Event patrons can pick up a music map and wristband at the event headquarters located in the plaza at the corner of Columbia and Adams Mill Roads NW. Event wristbands are FREE and provide attendees with dozens of discounts at various Adams Morgan businesses. After stopping by the event headquarters, guests can stroll through the neighborhood for nonstop musical performances from 2-6pm, enjoy lunch, dinner, or drinks at a neighborhood hangout, and shop for unique gifts at local boutiques.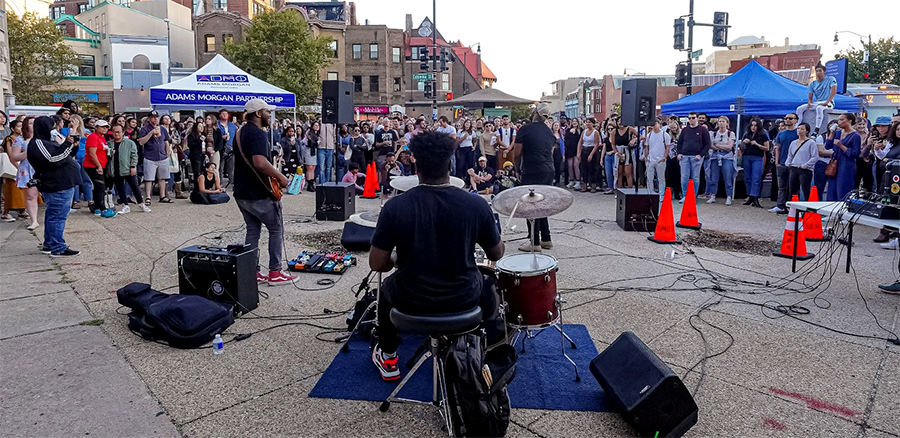 Each PorchFest location will host up to four 45-minute sets, all of which are free and open for all to enjoy. The main stage will feature various headliners to include Gordon Sterling and The People, Fanfaire, Bryan Lee Music, and The Experience Band. The Experience Band is the first-ever Go-Go headliner at Adams Morgan PorchFest! Go-Go is a music of celebration and participation, as Go-Go truly thrives with a crowd to dance to the groove and respond to the performer's proclamations. It's also the official music of DC! The full lineup of performers can be found at AdMoPorchFest.com.
Adams Morgan PorchFest is hosted by the Adams Morgan Partnership BID and sponsored by our generous community partners, Gifted Curators and Lars Etzkorn Law PLLC. Adams Morgan PorchFest is produced in partnership with Pipkin Creative. 
For performance locations, neighborhood discounts, and more event details, visit AdMoPorchFest.com. Be sure to tag your fun event photos on social media using #AdMoPorchFest and @admobid!
Be sure to tag us on social media using #AdMoPorchFest and @admobid!
2023 Adams Morgan PorchFest Official Schedule
(schedule & lineup is subject to change)
The Official Digital Map for the 2022 Adams Morgan PorchFest
NOTE: Locations, bands, and discounts are subject to change up until the start of the event.
Click Here to view the GPS-enabled map on your phone (requires Google Maps)

Spring '23 PorchFest Wristband Discounts
Pick up your wristband at PorchFest HQ (Corner of Columbia Rd. & Adams Mill Rd. in front of Truist Bank)
Unless otherwise noted, most discounts are good all day on Saturday, May 20, but please confirm with the business
Volunteer at Adams Morgan PorchFest!
PorchFest is a huge event and we need your help to make sure everything goes smoothly. Volunteers will receive a free PorchFest Volunteer t-shirt and will have access to our event green room where non-alcoholic refreshments and snacks will be available.
Sign Up Here
---