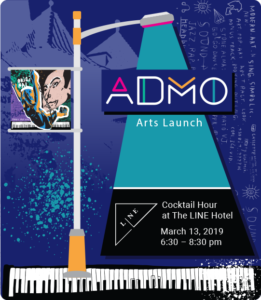 WASHINGTON, D.C., March 14, 2019 — Adams Morgan looks even more colorful, as new banners designed by a local artist have gone up throughout the neighborhood. The Adams Morgan Partnership partnered with local creative agency Maga Design to create a new visual identity for the neighborhood in 2018. Then, building upon this new "look," the Partnership commissioned artist Rebecca Williams for original art to update the neighborhood's light pole banners.
The street pole banners are part of a broader placemaking and community building effort. In the next few weeks, more than 100 banners will be installed in the neighborhood's primary corridors, on 18th Street, Columbia Road, Florida Avenue, Calvert Street, and the Duke Ellington Bridge, welcoming neighbors and visitors to the community and marking this area as Adams Morgan.
Rebecca is a full-time artist who works from her Adams Morgan studio overlooking Columbia Road NW. Scott Williams, her husband, is CEO of Maga Design. Their unique combination of graphic design, visual creativity and artistic vision brought the new Adams Morgan Partnership identity to life in three dimensions.
"I was passionate about bringing the personality of Adams Morgan to life through layered imagery of the neighborhood and its history, while promoting the spirit of the community and its businesses," says Williams. "I'm so excited the Partnership gave us the opportunity to adorn Adams Morgan with my art."
The subjects of the banner artwork were adapted from local photography, as well as iconic figures that have impacted the culture of the community. For example, the "Music Is Our Language" banner features Ian MacKaye, lead singer of the 80's punk rock band, Fugazi and its predecessor, Minor Threat, which played its first concert in a house on Calvert Street. Five additional banners represent the essence of this unique place, exploring themes such as diversity, social justice and activism (featuring U.S. Supreme Court Justice Ruth Bader Ginsburg), the arts, and family. Full banner descriptions can be found at admodc.org/banners.
"These street light banners represent just one component of a larger place branding program underway," said Kristen Barden, executive director of the Adams Morgan Partnership. "Additional public art, murals, and signage throughout the neighborhood and at our gateways are  in the works in the near future."
Additional new graphics are visible now in bus shelters, event signage, and print materials, also designed by local firms Maga Design and Alley Squash, Co. The Partnership is implementing a  a gateway beautification project at four key entry points to the neighborhood; and a photography exhibit in spring 2019 featuring photos of basketball courts around the world taken by local high school students. Adams Morgan Movie Nights this summer and Adams Morgan PorchFest in October will also promote the creative community of local musicians, filmmakers and artists. For more, visit admodc.org.
About the Adams Morgan Partnership
The Adams Morgan Partnership Business Improvement District is a nonprofit organization focused on enhancing the quality of life for businesses, commercial property owners, residents, visitors, and employees in the District of Columbia's most vibrant and eclectic neighborhood. The Partnership provides daily street cleaning, fun neighborhood events, and creative marketing and economic development initiatives. Adams Morgan is world-renowned for its fantastic restaurants and nightlife, colorful retail stores and historic, tree-lined residential streets. The American Planning Association named Adams Morgan one of the top 10 neighborhoods in America. For more on the Partnership, visit www.admodc.org or follow us on Twitter @AdMoBID, Instagram @AdMoBID or Facebook at AdamsMorganBID.
About Rebecca Williams
Rebecca Williams is a Washington, D.C.-based visual artist and designer. A perfectionist who pushes herself to disrupt order, Rebecca reaches back to nostalgic imagery where perfection lives in the mind's eye. Strength, femininity, brilliant colors, and pop culture references combine to pull at heartstrings and grab attention. Pulling from her innate curiosity of information design, technology, and culture change, Rebecca brings to life narratives through screen printing, collage, and color application. Read more at www.rebeccawilliams.art or @rebeccawilliamsart.
About Maga Design
Maga Design is a team of strategists, communication experts, and designers who help visionary leaders envision and execute a better future for their business and their customers. By bringing business and creativity together, Maga Design believes organizations that apply the design process to solve complex organizational and technical challenges can change the world. Learn more at www.magadesign.com or @magadesigninc.
About Alley Squash, Co.
Alley Squash, Co. offers full service marketing and graphic design assistance to small businesses in need of organized, creative support. Owner and designer Melanie Becker offers fifteen years of experience and a personalized approach to bring your print and digital needs to life. Learn more at www.alleysquash.com or @alleysquash.