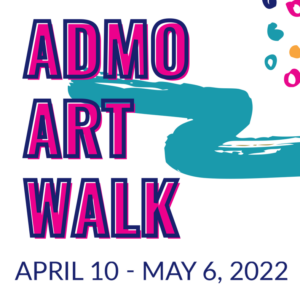 The Adams Morgan Partnership BID and DC Arts Center Bring Art to the Neighborhood April 10 – May 6, 2022
WASHINGTON, DC, MARCH 30, 2022 — The incredibly popular AdMo Art Walk will make its return to the Adams Morgan Neighborhood. The Adams Morgan Partnership BID and the DC Arts Center are partnering to bring back a free and interactive way to experience local artists' latest works. 
11 local businesses will display art from a number of local artists. As we shake off the doldrums of winter, the AdMo Art Walk provides the perfect family-friendly opportunity to get out and about and enjoy the sights and sounds of one of DC's most bustling neighborhoods while taking in the latest creations of local artists.
All are encouraged to stroll through Adams Morgan and admire an awe-inspiring selection of artworks displayed in local business storefronts. The artists represented in the show reflect the diversity of DC not only in personal identity, but also showcases artists that are self-taught and those institutionally trained. The self-guided walking tour will open Sunday, April 10 and will run through Friday, May 6.
New this year, the AdMo art walk will be themed to bring cohesion to the temporary collection. This year GROWTH will be the theme and will anchor the entire exhibit: from an expansion in the number of businesses participating, to new artists showcasing their work, and even the theme in the artworks displayed will reflect the new Spring season. 
The stops on the tour include:
Lost City Books — artwork by Alicia Pinkett

Yerevan Cafe and Market — artwork by Renée Regan

D'Light Cafe — artwork by Pat Goslee

The Potter's House — artwork by Elizabeth Ashe

Duplex Diner — artwork by Jazmine

Sakuramen Ramen Bar — artwork by Anthony Le and Ashley Jaye Williams

Little Shop of Flowers — artwork by Mike Siegel

Urban Dwell — artwork by Brenda Chandler

Tryst — artwork by Henry gallucio

BUL Korean Restaurant & Bar — artwork by Maggie Gourlay

The Diner — artwork by Caroline MacKinnon
Can't get enough art? Adams Morgan hosts many murals that bring our neighborhood's distinct culture and energy to life like the Pueblo Desmuralizado Mural on the wall of Kogibow Bakery to  The Madam's Organ mural. See the full map of the neighborhood's public murals here. Additionally, Washingtonians can visit Cultural Tourism DC's "Adams Morgan Heritage Trail" to tour 18 poster-sized, illustrated signs that combine storytelling with historic images. More information available on the trail here. 
More information is available at AdMoDC.org/ArtWalk. Feel free to take in the full Art Walk at your own pace and take the time to enjoy the energy of the neighborhood and visit the many local retailers and restaurants along the way. More information on DCAC can be found at https://dcartscenter.org/.  
About the Adams Morgan Partnership BID
The Adams Morgan Partnership Business Improvement District is a nonprofit organization focused on enhancing the quality of life for businesses, commercial property owners, residents, visitors, and employees in the District of Columbia's most vibrant and eclectic neighborhood. The Partnership provides daily street cleaning, fun neighborhood events, and creative marketing and economic development initiatives. Adams Morgan is world-renowned for its fantastic restaurants and nightlife, colorful retail stores and historic, tree-lined residential streets. The American Planning Association named Adams Morgan one of the top 10 neighborhoods in America. 
About District of Columbia Arts Center (DCAC)
With nearly two dozen art openings and hundreds of performances each year, the DC Arts Center (DCAC) is the only institution solely dedicated to fostering underrepresented artists in the greater Washington, D.C., area. Founded in 1989 as an accessible alternative arts center in response to eroding support for local artists, DCAC has since become a hub of creativity in the visual and performing arts, receiving local, national, and international attention. Artists of all types, including poets, painters, actors, storytellers, sculptors, and performance artists, have been drawn to DCAC from as close as around the corner to as far as from other continents. Located in Washington, DC's vibrant Adams Morgan neighborhood, DCAC operates a small arts facility that includes two art galleries, a 42-seat black box theater, and office space.