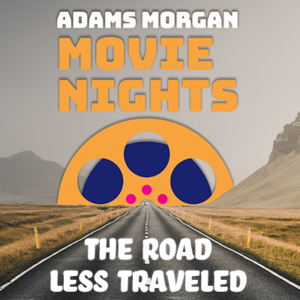 WASHINGTON, DC, April 28 2022 — The Adams Morgan Partnership Business Improvement District (BID) is thrilled to announce the return of the celebrated community series: Adams Morgan Movie Nights with title sponsor Gifted Curators! Kicking off May 24, every Tuesday night through June 21 head to Marie Reed Field at 18th and California to enjoy the warm weather and a great movie. 
Movies will kick-off just after sunset. Attendees are encouraged to bring their own blankets and pick-up dinner from a neighborhood restaurant to enjoy during the film. Want to dine in? Visit one of the dozens of Adams Morgan restaurants serving global eats, affordable bites, or Michelin-starred meals!
As we welcome summer to DC and all the adventures that come with it, the theme of the movie series this year is "The Road Less Traveled"  – offering stories that speak to personal identities, exploration, and epic quests!
Movie Screening Schedule: 
May 24: The Princess Bride

May 31: Monty Python and the Holy Grail

June 7: Queen of the Capital

June 14: Keanu

June 21: Encanto
This year, special for Pride Week, the Adams Morgan Partnership BID will be showing Queen of the Capital from local documentary maker Josh Davidsburg. The film chronicles Muffy Blake Stephyns, a DC bureaucrat by day and drag queen by night. 
What's a movie without popcorn? Gifted Curators will be popping hot & fresh popcorn for each showing. Insomnia Cookies in Adams Morgan is generously providing individually-wrapped, hot-out-of-the-oven, cookies to guests on a first-come-first-serve basis at each movie. Be sure to arrive early to set up your space on the field and get your cookie!
June 28 is being held as a rain date if one of the showings is canceled due to inclement weather. Please note that alcohol and pets are not permitted on the field. 
Visit admodc.org/movies and follow us on Facebook, Instagram, and Twitter for more details! Many thanks to our partners, Gifted Curators, The Silva, OCTFME and Wegman's for generously sponsoring our series.  
About the Adams Morgan Partnership BID
The Adams Morgan Partnership Business Improvement District is a nonprofit organization focused on enhancing the quality of life for businesses, commercial property owners, residents, visitors, and employees in the District of Columbia's most vibrant and eclectic neighborhood. The Partnership provides daily street cleaning, fun neighborhood events, and creative marketing and economic development initiatives. Adams Morgan is world-renowned for its fantastic restaurants and nightlife, colorful retail stores and historic, tree-lined residential streets. The American Planning Association named Adams Morgan one of the top 10 neighborhoods in America.