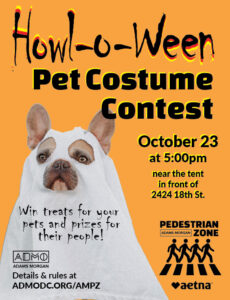 WASHINGTON, DC, October 21, 2022 — Visit the Adams Morgan Pedestrian Zone this Sunday, October 23 from Noon to 10pm, the final road closure of the year (18th Street NW between Kalorama and Columbia Roads NW). Attendees of all ages can move safely through the car-free street, enjoy free entertainment, and visit hundreds of local businesses. This Sunday's Pedestrian Zone will be extra festive leading up to Halloween with a 'Halloween Preview' theme. A few highlights include: 
Learn more and view the full entertainment schedule here. And, be sure to visit and support one of the many eclectic boutiques, make a reservation at a Michelin-starred restaurant, enjoy one of our many fast casual restaurants, sit in an outdoor sidwalk patio and enjoy the views of the street, or get glammed up at a beauty salon. 
This initiative is brought to you by the Adams Morgan Partnership BID and generously sponsored by title sponsor, Aetna, a health care company that is working to build a healthier world and is contributing to all of the fun, healthy ways to move throughout the pedestrian zone. Supporting sponsors include The Rounds, Lyft, and Capital Bikeshare. This event was made possible by a Streets for People grant from the DC Office of Planning. 
In a continued effort to create safe places for pedestrians and keep extra cars off the street, we encourage you to consider walking, biking, or using a rideshare while getting to and from the Adams Morgan Pedestrian Zone. Unlock a Lyft scooter FOR FREE by using the code 'ADMOSCOOT22' for a free unlock (up to $1 off). Open the Lyft app, select 'Rewards' from the menu and tap 'Add promo code.' Or, take Capital Bikeshare and use the code 'ADMOCABI22' to unlock a bike FOR FREE (up to $1 off). To add the code to your account, open the CaBi app, select 'Rewards' from the menu and tap 'Add promo code.' 
Follow the Adams Morgan Partnership BID on Facebook, Instagram, and Twitter for more details about the Adams Morgan Pedestrian Zone, neighborhood updates, invitations to special events, and more!
About the Adams Morgan Partnership BID
The Adams Morgan Partnership Business Improvement District is a nonprofit organization focused on enhancing the quality of life for businesses, commercial property owners, residents, visitors, and employees in the District of Columbia's most vibrant and eclectic neighborhood. The Partnership provides daily street cleaning, fun neighborhood events, and creative marketing and economic development initiatives. Adams Morgan is world-renowned for its fantastic restaurants and nightlife, colorful retail stores and historic, tree-lined residential streets. The American Planning Association named Adams Morgan one of the top 10 neighborhoods in America. 
###