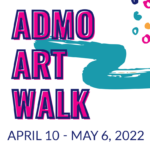 AdMo Art Walk 2022: Artist Spotlight
Click Here
for information on the other artists and businesses as well as an interactive map of the show.
Artist:
Jazmine Black

Pieces:
Beyond the walls
Art Walk Location:
Duplex Diner, 2004 18th St NW
Description of Pieces: Each piece is of the manifestation on nature as beings. How life evolves within us.
Pricing: $850 -above (negotiable)
Artist Biography: Peace. I am jazmine. Born and raised in dc. I am a visual artist who is self-taught who enjoys popcorn, colors and instrumentals. One thing about me : I love to listen to the waves.