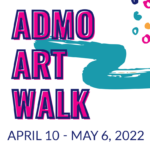 AdMo Art Walk 2022: Artist Spotlight
Click Here
for information on the other artists and businesses as well as an interactive map of the show.
Artist:
Alicia Pinkett

Pieces:
Rosebud, black girl magic, eyes on you, groovy baby, crowned
Art Walk Location:
Lost City Books, 2467 18th St NW
Description of Pieces: Rosebud 18 by 24, black girl magic 18 by 24,eyes on you 18 by 24, groovy baby 24 by 36, crowned
Pricing: Rosebud $350, black girl magic $450, eyes on you $400, groovy baby $1000, crowned $650
Artist Biography: Born and raised in Washington, DC loving art from the beginning. Since middle school I used art as a way for me to escape. In the 7th grade, my teacher influenced me so much that I wanted to make art my career. That school year I sold my first painting, displayed a piece in the DCPS calendar, and at the Ronald Reagan airport. That moment in my life I realized that this is more than just a hobby but this can be my life, too. My philosophy of art is that it is life. Art is science, math, engineering, music, etc. I learned that without art there wouldn't be 100% of objects that people know and love. I just want people to know that my artwork exists and that I have never gave up on what I know and love. I am teaching an Art program that I created for my middle schoolers, which have been the best experience of my life so far. I would love to expand my world in an artistic manner.
Last year, I won a grant to create portraits for families who lost someone to gun violence. I loved giving families a reason to smile and art that would last forever so I decided to start painting again. Since then, I have joined ArtBAE (an art organization in WASHDC), started an Art Elective at KIPP KEY Academy, and started my own business (AisforARTT LLC).