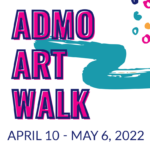 AdMo Art Walk 2022: Artist Spotlight
Click Here
for information on the other artists and businesses as well as an interactive map of the show.
Artist:
Jerry Truong

Pieces:
To The Cryptics and Cynics, a Modest Proposal For a New Kind of Revolution
Art Walk Location:
Copacabana, 2434 18th St NW
Description of Pieces: Vinyl on polyester film
Pricing: Not for Sale
Artist Biography: Jerry Truong is an interdisciplinary artist, whose work deals with issues of history and memory as they relate to the exercise of power and the residuals of trauma. Truong received his B.A. in Studio Art from the University of California, Irvine and his M.F.A. in Visual Arts from the University of California, San Diego, where he was also a recipient of the San Diego Fellowship. He has had solo exhibitions at the Arlington Art Center (VA), Northwestern University (IL), Hood College (MD), and Lycoming College (PA). His work has been shown at venues such as the VAALA Cultural Center (CA), American University Museum (DC), BlackRock Center for the Arts (MD), CUE Foundation (NY), and Flashpoint Gallery (DC). He was a fellow at Hamiltonian Artists from 2012-14 and a member of the Sparkplug Collective at the DC Arts Center from 2014-16.