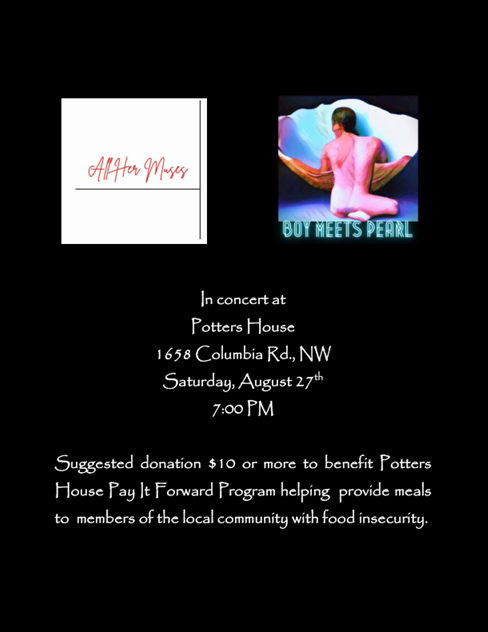 Fundraiser for Potters House with local bands All Her Muses and Boy Meets Pearl
August 27, 2022 @ 7:00 pm

-

10:00 pm
Local bands All Her Muses and Boy Meets Pearl are playing a fundraiser for Potters' House Pay It Forward program which offers free meals to anyone in need. Potters House served over 30,000 free meals last year.
All Her Muses is a DC-based music project founded in 2017 by disabled poet/singer Natalie E. Illum and musician/composer Grey Jacks. They released their debut album "Not Speaking in Metaphor" in May 2022. The record is part punk, part heartbreak, part dance mix – inspired by unexpected breakups, depression cycles, and a few questionable decisions. All Her Muses features a rotating roster of guest musicians and artists, making each live (and live-streamed) performance unique.
Boy Meets Pearl are a carousel punk band with a lineup that includes accordion, glockenspiel, autoharp, Chapman stick, trumpet, cajon and viola. They write songs about things like time rifts, conjoined twins, tiger sharks and the meaning of life.
Suggested $10 or more donation at the door.