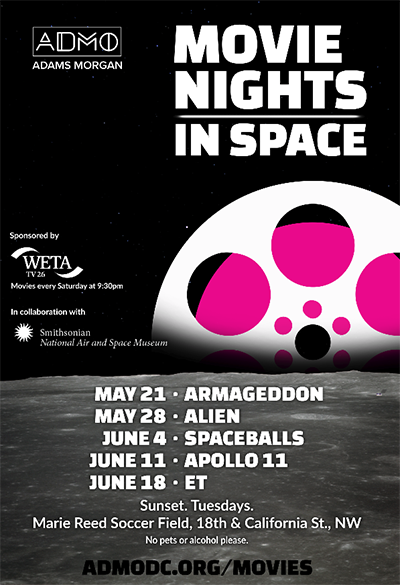 WASHINGTON, D.C., APRIL 22, 2019 — To celebrate the 50th anniversary of the moon landing, Adams Morgan Movie Nights will feature five space-themed films, including a panel discussion and stargazing, in collaboration with the Smithsonian's National Air and Space Museum.
On five Tuesday evenings from May 21 to June 18, grab a blanket, a friend, and eats from a neighborhood restaurant to watch films under the twinkling lights of the city. On select evenings, experts and staff from the National Air and Space Museum will discuss the science behind the films and set up  telescopes for on-site viewing (clouds permitting). Several restaurants on the surrounding blocks will be offering special "Brown Bag Movie Meals" packaged to go that attendees can bring to the field; check the website (http://admodc.org/movies) for details. Movies are shown at dark at the Marie Reed Recreation Center at 18th and California Streets, NW.
The full lineup includes five space-themed films celebrating our achievements, our goals, and our fears through documentary, adventure, comedy, and heartwarming drama.
Schedule:
May 21: Armageddon (panel from Smithsonian)
May 28: Alien
June 4: Spaceballs
June 11: Apollo 11 (panel from Smithsonian)
June 18: E.T. the Extra-Terrestrial (Family Night)
"This year's series celebrates the moon landing and brings science into the community in a fun way," said Kristen Barden, Executive Director of the Adams Morgan Partnership Business Improvement District. "A special thank you to our collaborators at the Smithsonian's National Air and Space Museum, and to our sponsor, WETA, for supporting this event."
Bring your chairs, kids and neighbors for a fun evening out. Dogs are not allowed on the turf field. The Marie Reed Elementary School PTA will be selling refreshments; proceeds benefit the PTA.
Adams Morgan Movie Nights are sponsored by WETA and supported by the Marie Reed Elementary School PTA and neighborhood volunteers. To volunteer at the event, please contact Brian Barrie at bbarrie@adamsmorganonline.org. For more, visit admodc.org.
About the Adams Morgan Partnership
The Adams Morgan Partnership Business Improvement District is a nonprofit organization focused on enhancing the quality of life for businesses, commercial property owners, residents, visitors, and employees in the District of Columbia's most vibrant and eclectic neighborhood. The Partnership provides daily street cleaning, fun neighborhood events, and creative marketing and economic development initiatives. Adams Morgan is world-renowned for its fantastic restaurants and nightlife, colorful retail stores and historic, tree-lined residential streets. The American Planning Association named Adams Morgan one of the top 10 neighborhoods in America. For more on the Partnership, visit www.admodc.org or follow us on Twitter @AdMoBID, Instagram @AdMoBID or Facebook at AdamsMorganBID.