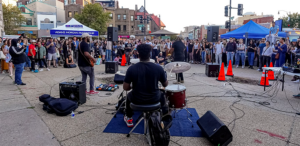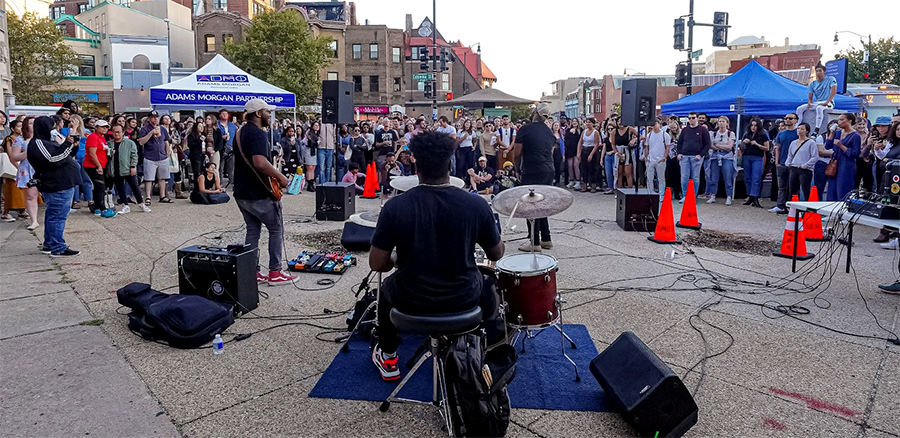 NEW Spring PorchFest from the Adams Morgan Partnership BID 
WASHINGTON, DC, April 27, 2023 — The Adams Morgan Partnership Business Improvement District (BID) is excited to announce the first-ever Spring PorchFest on Saturday, May 20 from 2-6pm! Over the last 10 years, the organization has received overwhelming community support during their October PorchFest and has decided to add a second PorchFest to the neighborhood events lineup. With over 70+ bands, this Spring edition will showcase some of DC's best local musical talent featuring nearly every musical genre, including classic rock, funk, go-go, rap, reggae, blue grass, classical, and pop. Seventeen porches, patios, and stoops will become stages for the day, drawing music-lovers from around the region into the tree-lined streets and small businesses of Adams Morgan.
Event patrons can pick up a music map and wristband at the event headquarters located in the plaza at the corner of Columbia and Adams Mill Roads NW. Event wristbands are FREE and provide attendees with dozens of discounts at various Adams Morgan businesses. After stopping by the event headquarters, guests can stroll through the neighborhood for nonstop musical performances from 2-6pm, enjoy lunch, dinner, or drinks at a neighborhood hangout, and shop for unique gifts at local boutiques.
Each PorchFest location will host up to four 45-minute sets, all of which are free and open for all to enjoy. The main stage will feature various headliners including: Gordon Sterling and The People, Fanfaire, Bryan Lee Music, and The Experience Band and Show. The full lineup of performers can be found at AdMoPorchFest.com.
The Adams Morgan Partnership BID is currently recruiting volunteers to assist with staffing Spring PorchFest. Volunteers will receive a free t-shirt, Adams Morgan swag, and an invitation to a private event the day of PorchFest. Click here to sign up.
"We are thrilled to bring a second PorchFest to the Adams Morgan community this Spring," said Kristen Barden, Executive Director of the Adams Morgan Partnership Business Improvement District. "In October 2022, there were over 40,000 people at Adams Morgan PorchFest which increased foot traffic and sales at neighborhood businesses. It's vital that we continue to host events that activate our streets, bring people into our businesses, and showcase all that Adams Morgan has to offer. We really appreciate our incredible porch hosts, bands, sponsors, volunteers, and small businesses for their contributions to this wonderful event. See you all on May 20!"
Adams Morgan PorchFest is hosted by the Adams Morgan Partnership BID and sponsored by our generous community partners, Gifted Curators and Lars Etzkorn Law PLLC. Adams Morgan PorchFest is produced in partnership with Pipkin Creative. For performance locations, neighborhood discounts, and more event details, visit AdMoPorchFest.com. Be sure to tag your fun event photos on social media using #AdMoPorchFest and @admobid!
About the Adams Morgan Partnership BID
The Adams Morgan Partnership Business Improvement District is a nonprofit organization focused on enhancing the quality of life for businesses, commercial property owners, residents, visitors, and employees in the District of Columbia's most vibrant and eclectic neighborhood. The Partnership provides daily street cleaning, fun neighborhood events, and creative marketing and economic development initiatives. Adams Morgan is world-renowned for its fantastic restaurants and nightlife, colorful retail stores and historic, tree-lined residential streets. The American Planning Association named Adams Morgan one of the top 10 neighborhoods in America.
###
FOR IMMEDIATE RELEASE
Media Inquiries:
Kristen Barden
kbarden@admodc.org
202-997-0783