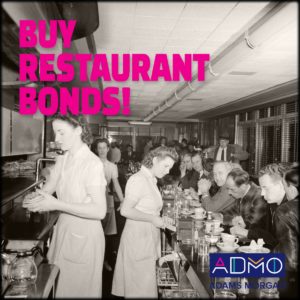 Purchasing gift cards from our local businesses can help stimulate the economy now.
WASHINGTON, DC, March 17, 2020 — With capacity limitations imposed and now the District of Columbia's orders that restaurants can only serve takeout or delivery, our city's restaurant industry has been among the hardest hit by the Coronavirus (COVID-19) pandemic. People are being encouraged to stay home and away from crowds and public dining rooms, some restaurants and cafes have already been forced to dial back hours in response to the decrease in business, while others have shut down entirely. With restaurants facing an uncertain immediate future, one way DC diners can support their favorite Adams Morgan restaurants is by purchasing gift cards – or what we are calling "Restaurant Bonds" – similar to "war bonds" during WWI and II. Whether given as a gift or kept for future meals, gift cards can act as a microloan to restaurants to provide much-needed immediate cash. Many restaurants sell gift cards online, allowing customers to offer their support without having to leave home.
There has never been a more important time to support our neighborhood's culinary scene. Restaurants are emptying out and small business owners are seeing up to an 80% drop-off in customers. Restaurants already work off razor-thin profit margins, but the COVID-19 pandemic is a test like no other. We have heard that restaurants in Adams Morgan and across DC are scrambling to cover expenses and to make payroll with no idea what new changes tomorrow will bring. For now, the best thing our friends and neighbors in the community can do to help is to order takeout or buy gift cards to ensure at least some income during this difficult time.
If this trend continues, many of our beloved Adams Morgan restaurants will suffer greatly but we have the opportunity to help. Because even through this crisis, we have the power as Washingtonians to recognize how important food is to our culture and to support our small businesses in any way we can. Buy Restaurant Bonds!
Here are two ways to help our Adams Morgan restaurants stay afloat:
Buy gift cards (Restaurant Bonds). Restaurants collect gift card revenue as soon as the card is purchased, then mark it as redeemed once the user applies it to a bill. If you are in a position to buy a gift card and sit on it for a while, you will be helping your local favorite get through a tough time.

Opt for carryout or delivery. Many restaurants are opting for curbside pickup or have pick-up areas where you can dash in, get your food and leave. It's a better deal for restaurants if you collect carry out yourself, rather than use a delivery app. That helps the restaurant — and you — avoid delivery charges. But if you don't feel like driving over, delivery is your back-up choice. Be sure to tip your delivery person.
"We as a community need to pull together and help those that have always been willing to serve us (food, that is)," said Kristen Barden, Executive Director of the Adams Morgan Partnership Business Improvement District. "The restaurant industry is one of the biggest employers in our neighborhood. And most are small, independent businesses," she continued. "There's a lot of restaurants that depend on neighborhood foot traffic visiting their establishments in order to pay their employees. If you are able, we ask you to please support your neighbors, it will not go unnoticed or unappreciated. Adams Morgan needs your help right now."
Adams Morgan Restaurant Bonds is created by the Adams Morgan Partnership Business Improvement District in an effort to stand behind our local businesses during this unexpected pandemic. Please show your support and visit admodc.org/dining to preview a list of Adams Morgan restaurants and for more information. Let's do this together. #BuyRestaurantBonds
About the Adams Morgan Partnership BID
The Adams Morgan Partnership Business Improvement District is a nonprofit organization focused on enhancing the quality of life for businesses, commercial property owners, residents, visitors, and employees in the District of Columbia's most vibrant and eclectic neighborhood. The Partnership provides daily street cleaning, fun neighborhood events, and creative marketing and economic development initiatives. Adams Morgan is world-renowned for its fantastic restaurants and nightlife, colorful retail stores and historic, tree-lined residential streets. The American Planning Association named Adams Morgan one of the top 10 neighborhoods in America. For more on the Partnership, visit www.admodc.org or follow us on Twitter @AdMoBID, Instagram @AdMoBID or Facebook at AdamsMorganBID.
###