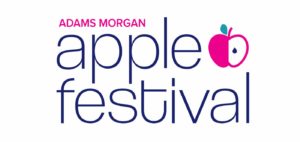 WASHINGTON, DC, October 26, 2022 —The 9th Annual Adams Morgan Apple Pie Baking Contest and the 14th Annual Licking Creek Bend Farm Heirloom Apple Tasting returns to Adams Morgan on Saturday, October 29! The highly-anticipated community event will take place in front of The Line Hotel and directly across the street from the farmer's market in Unity Park at Euclid and Champlain Streets NW. 
Event highlights include an apple tasting and a homemade apple pie baking contest from restaurants and residents in the neighborhood. Area bakers compete for the title of 'Best Apple Pie', and attendees can purchase pie slices for $5 each to support Miriam's Kitchen. The apple pie contest is judged by the following local pie lovers:
Event Schedule
8am:

Adams Morgan Farmers Market opens

10am:

Heirloom apple tasting, presented by Michael Tabor of the Licking Creek Bend Farm

11am:

Pie slices go on sale (available on a first come, first serve basis. They typically sell out quickly.)

11:30am-12:30pm:

Apple pie contest judging

12:30pm:

Contest winners announced

1pm:

Market & festival ends
Additional Event Details
The event is free and open to the public. Each pie-baking contestant will make three homemade 9" pies from scratch (one for the judges, two for sale) and provide a list of their ingredients. Bakers compete for the top slot in five categories: appearance, filling, crust, overall, and People's Choice. The People's Choice category is voted on and scored by the public. A QR code is placed on each individual pie slice that is sold at the festival and the purchaser can try and score the pie slice. Votes are tallied and the People's Choice winner is later announced. Winners in each category will receive a certificate, a mention on social media, and a 2 week CSA membership from Licking Creek Bend Farm. 100% of the proceeds from pie sales are donated to the local charity, Miriam's Kitchen. The festival is hosted by the Adams Morgan Partnership BID and Licking Creek Bend Farm, in partnership with The Line Hotel. To learn more, visit AdMoAppleFestival.com.  
Follow the Adams Morgan Partnership BID on Facebook, Instagram, and Twitter for neighborhood updates, invitations to special events, and more!
About the Adams Morgan Partnership BID
The Adams Morgan Partnership Business Improvement District is a nonprofit organization focused on enhancing the quality of life for businesses, commercial property owners, residents, visitors, and employees in the District of Columbia's most vibrant and eclectic neighborhood. The Partnership provides daily street cleaning, fun neighborhood events, and creative marketing and economic development initiatives. Adams Morgan is world-renowned for its fantastic restaurants and nightlife, colorful retail stores and historic, tree-lined residential streets. The American Planning Association named Adams Morgan one of the top 10 neighborhoods in America. 
About Licking Creek Bend Farm
Owner and social activist Michael Tabor started Licking Creek Bend Farm in 1972 and began attending the Adams Morgan Farmers Market in 1974. Licking Creek Bend Farm consists of 60 acres, of which 5 to 10 acres are farmed each year. The farm is a Certified Naturally Grown farm. Their philosophy is to offer healthy grown, pesticide-free foods at affordable prices, and the farm participates in most government farm market subsidy programs (WIC, SNAP, EBT). The farm sells its produce in two DC-area food co-ops, five farmers' markets, several local universities, and a 70-member community-supported agriculture (CSA) program that accepts SNAP and WIC families. 
About Miriam's Kitchen
Founded in 1983 as a soup kitchen, Miriam's Kitchen has evolved over the years to provide more than meals. Today, Miriam's Kitchen is a critical player in the fight to end chronic homelessness in D.C. On the direct services level, they serve more than 3,000 men and women experiencing homelessness—helping them to improve their health, increase their income and obtain housing through a range of programs and partnerships. And at the systems level, we work with leaders across the city to make instances of homelessness rare, brief, and non-recurring.