Experience Art in Adams Morgan with a Self-Guided Walking Tour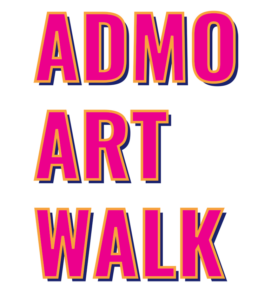 AdMo Art Walk Takes Place April 3 – April 30, 2023
WASHINGTON, DC, March 29, 2023 — Think of Adams Morgan as your own personal art gallery thanks to the AdMo Art Walk, a free, fun way to experience art brought to you by the Adams Morgan Partnership BID, The DC Arts Center, local artists, and neighborhood businesses! Walk the streets of Adams Morgan and admire an impressive selection of artwork displayed in various storefronts in a self-guided walking tour starting April 3 through April 30. Each participating local artist has a variety of artwork on display in an Adams Morgan business. Thanks to overwhelming support from the community since the event's initial launch in 2020, it has continued to grow with increased participation from local businesses and artists. Here's the list of the 16 stops along the AdMo Art Walk:
Location 1: Banfield Pet Hospital — artwork by Steve Mabley
Location 2: Because Science — artwork by Molly Fitzgerald
Location 3: BUL Korean Bar & Restaurant — artwork by Daryle Locko
Location 4: D'Light Cafe — artwork by Heidi Phelps
Location 5: Duplex Diner — artwork by Lisa Bernstein
Location 6: Elfegne — artwork by Biniame
Location 7: Fleet Feet DC — artwork by Brenda Chandler
Location 8: Green Island Cafe — artwork by David Alexander
Location 9: Little Shop of Flowers — artwork by Sandy Adams
Location 10: Mola Empanada — artwork by Luke Walter
Location 11: Sakuramen — artwork by David Camero
Location 12: The Diner — artwork by John Grunwell
Location 13: The Potter's House — artwork by Sally Veach
Location 14: Tryst — artwork by Gary Honig
Location 15: Urban Dwell — artwork by Samantha Van Heest
Location 16: Yerevan Cafe and Market — artwork by Beth Carenbauer
Each Saturday throughout the event, The DC Arts Center will be offering FREE guided walking tours of the AdMo Art Walk making brief stops at each location to discuss the artwork, artist, and local businesses. Space is limited so please reserve your spot here.
When ready to purchase your favorite art from the AdMo Art Walk, please scan the QR code located in the business windows or visit the AdMo Art Walk website and click on your favorite artists' profile page. You can browse the full inventory of art on display here or by clicking "buy art."
While enjoying the AdMo Art Walk, enter to win a $50 gift card to an Adams Morgan business of your choice or an annual Artist's Membership to The DC Arts Center! To enter the giveaway, snap a photo of the AdMo Art Walk and post it to Instagram. Then, tag @admobid, @dcartscenter, and #AdMoArtWalk in your post. Two lucky winners will be selected throughout the 4-week event.
All of this and more can be found at dcartscenter.org/artwalk. We encourage you to follow the AdMo Art Walk at your own pace or sign-up for a guided tour, enjoying Adams Morgan's charm, eclectic shops, and an abundance of restaurants along the way!
About the Adams Morgan Partnership BID
The Adams Morgan Partnership BID is a nonprofit organization focused on enhancing the quality of life for businesses, commercial property owners, residents, visitors, and employees in the District of Columbia's most vibrant and eclectic neighborhood. The Partnership provides daily street cleaning, fun neighborhood events, and creative marketing and economic development initiatives. Adams Morgan is world-renowned for its fantastic restaurants and nightlife, colorful retail stores and historic, tree-lined residential streets. Adams Morgan is home to more than 240 colorful restaurants and businesses, ranging from uniquely local storefronts to neighborhood-serving retail, and creative fun from comedy to dancing. For more information, visit www.admodc.org or follow along on Twitter @AdMoBID, Instagram @AdMoBID or Facebook at AdamsMorganBID.
About District of Columbia Arts Center (DCAC)
The DC Arts Center (DCAC) is the only institution in the greater Washington, D.C., area solely dedicated to fostering underrepresented artists in every discipline. We believe that by encouraging artists of all types and all levels to pursue their passion, community transformation is possible. Located in the vibrant Adams Morgan neighborhood in Washington, D.C., DCAC operates a small arts facility that includes two art galleries, a 41-seat black box theater, and office space. Founded in 1989 as an accessible alternative arts center in response to eroding support for local artists, DCAC has since become a hub of creativity in the visual and performing arts, receiving local, national, and international attention. Artists of all types, including poets, painters, actors, storytellers, sculptors, and performance artists, have been drawn to DCAC from around the corner and around the globe.For more information on DCAC, visit dcartscenter.org.
###
Media Inquiries:
Kristen Barden
202-997-0783
Sean Elias
202-462-7833